Hello All,
A little help if you please.
I am in the gradual process of building up a Spyder chassis for for my 71 +2 S130 but have come to a grinding halt.
All looks ok, but when I try to fit the caliper onto the Spyder hub carrier the disk fouls the inside of the caliper. I reckon it's off by about 3mm.
It's the same on both side.
Here's a pic showing the large gap to the left of the disk and no gap to the right:
(forgive the rubbish caliper paint job!)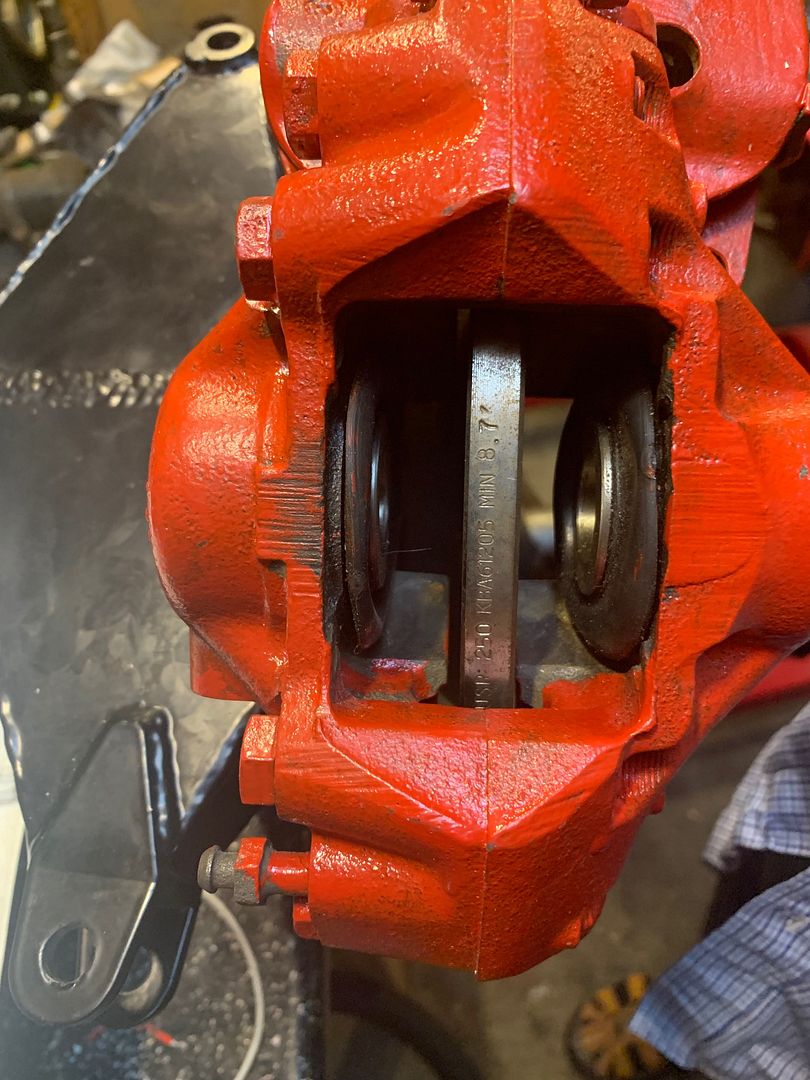 Spoke to Spyder and they said that have seen cases where the faces of the drive lugs have been machined back resulting in a misalignment. I don't have a reference piece to hand but mine are a nice square half inch so I suspect ok: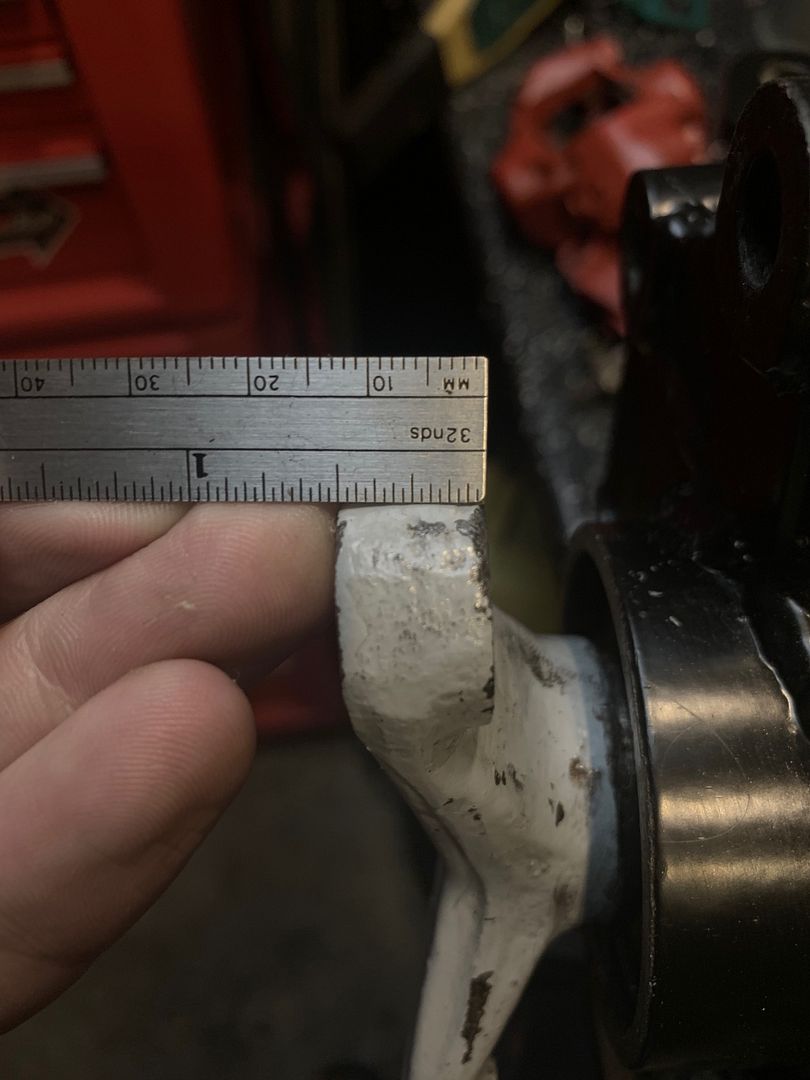 This made me think that perhaps I had not pressed the axle in all the way, but I can't see how it could go any further. A precise 2 inch protrusion makes me think all may be ok: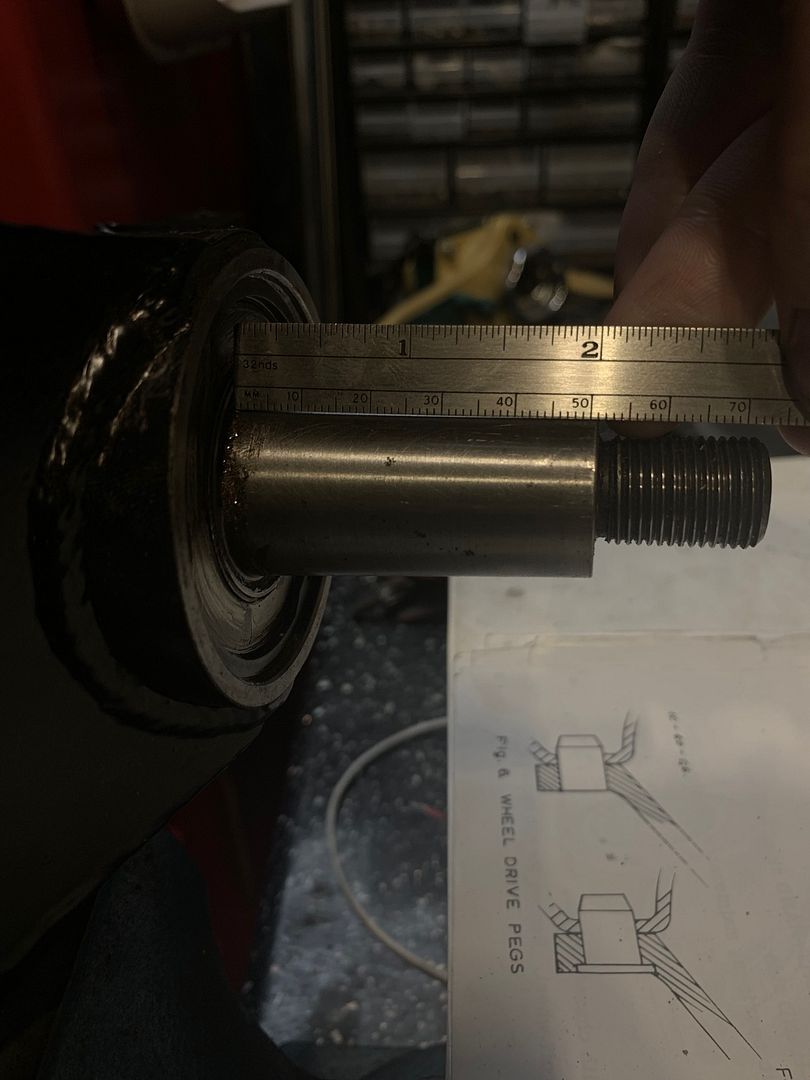 Likewise, a exact 1 inch gap from the drive lug to the caliper looks like it may be correct.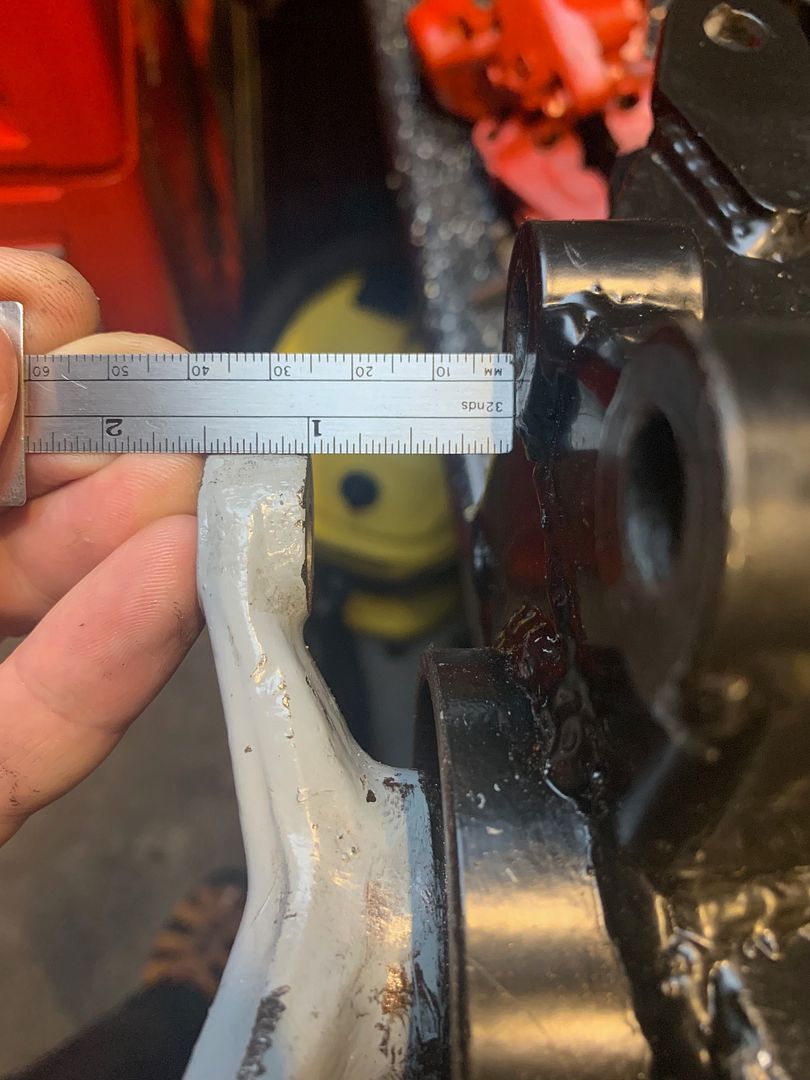 But alas it can't be. Something has to be out and I just can't see what.
If any one has a successfully assembled chassis to hand, it would be great to know how my measurements compare.
Thanks,
Humbuck
HumBuck

New-tral
Posts: 9
Joined: 11 Jun 2013
Location: NE Scotland
I had a similar issue but using stock hubs etc, seems i got a pair of badly machined disks that had me scratching my head for a while...... mine was only 1.5mm out of wack but it meant it was almost impossible to make the hand brake work correctly.
Chris

Grizzly

Coveted Fifth Gear

Posts: 1841
Joined: 13 Jun 2010
Location: Cheshire/UK
Is your picture upside down?
I think shims between the caliper and mount will centralise the disk.

LaikaTheDog

Third Gear

Posts: 230
Joined: 29 Oct 2003
Location: UK, London.
Thanks for replies.

I happen to have two different disk parts available to me with no variation so suspect disk is ok.

Parts are mounted in vice so will appear upside down.

Was trying to avoid shims if I can, but may have to accept for now.

Best guess is that there is something wrong with the bearing configuration - wrong parts, wrong way round etc. But would need a measurement from another set up to confirm.

Thanks
HumBuck

New-tral
Posts: 9
Joined: 11 Jun 2013
Location: NE Scotland
Not sure if it applies here but the usual problem is the inner hub bearing has been fitted the wrong way round. The small shoulder on the race should be on the inside,that is on the hub side away from the spider.
The Spyder hub has two circlip grooves for the back of the bearing are you using the correct one, this is done to take the wide or the narrow bearings.
Craven

Fourth Gear

Posts: 823
Joined: 14 Sep 2013
Location: south coast uk
If the disc runs true then it must be caliper misalignment?
This could be overcome by spacing the caliper - however this shouldn't be necessary.
It's not the first time that Spyder point the finger everywhere except their own fabrication.
MarkDa

Fourth Gear

Posts: 762
Joined: 15 Apr 2017
Location: Stroud
Humbuck,

I have just taken the body off the chassis again. I can confirm that the 1/2" dimension is the same on my car, but as the hubs are on I cannot check the 2" dimension. I am also using Spyder struts.

Hope this helps,

Richard Hawkins
RichardHawkins

Fourth Gear

Posts: 615
Joined: 05 Jul 2008
Location: Lincolnshire U.K.
My 2p worth...

If the inner and outer circlips fit, and the small one on the stub axle is in place then the bearing fit is correct. My reasoning is that the inner bearing is pressed onto the stub shaft and the small circle fitted. Then the shaft, housing and outer bearing are mated/pressed together (you know what I mean) and the two large circlips fitted. If the circlips are located then the bearings are properly located too.

I would guess your disks are out of true. i.e. where there are machined to mount onto the drive shaft. I would check this measurement with some old disks.

cheers
mark

mark030358

Fourth Gear

Posts: 816
Joined: 29 May 2004
Location: Willaston, Wirral
MarkDa wrote:It's not the first time that Spyder point the finger everywhere except their own fabrication.
It does seem their first general response.
If the shafts are OK and, if all the circlips fit, they must be. Then the Spyder uprights must be a suspect?
My car has them and I'll be replacing them with rebuilt Issue 18s shortly. Anything you would like me to measure?
vincereynard

Coveted Fifth Gear

Posts: 1043
Joined: 12 Jan 2015
Location: amersham
Mark030358
Clearly I don't know how many rear bearings you have replaced but my guess would be none.
Take a look at this pic, the bearing is not symmetrical so if fitted incorrectly it will position the shaft relative to the hub in a different position.

Craven

Fourth Gear

Posts: 823
Joined: 14 Sep 2013
Location: south coast uk
Thanks for these responses chaps. I'm away at the moment but back tomorrow so will have another look and post back then.
HumBuck

New-tral
Posts: 9
Joined: 11 Jun 2013
Location: NE Scotland
Total Online:
Users browsing this forum: No registered users and 3 guests